Oscares 2016: Spike Lee e Jada Pinkett Smith boicotam cerimónia "branca"
Comentários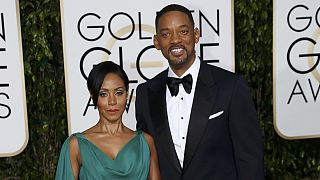 Spike Lee e Jada Pinkett Smith (na foto, em cima, com o marido) revelaram pelas redes sociais a intenção de boicotar a cerimónia deste ano da entrega dos Óscares. O realizador de 58 anos e a atriz de 44 estão contra a ausência pelo segundo ano consecutivo de atores afro-americanos nas nomeações para as estatuetas das categorias de interpretação da Academia de Hollywood e aproveitaram a celebração dia nacional de Martin Luther King para anunciar o protesto.
Spike Lee & Jada Pinkett Smith are skipping the Oscars because of #OscarSoWhite controversy https://t.co/sLQjv1z89mpic.twitter.com/KEcqqPYuj7

— People Magazine (@people) 18 janeiro 2016
A esposa de Will Smith publicou um vídeo no Facebook (em baixo), começando por salientar exatamente o aniversário do malogrado ativista pelos direitos dos afro-americanos nos Estados Unidos. "Não posso evitar a pergunta: Não será tempo de as pessoas de cor reconhecerem o muito poder e influência que temos acumulado para já não ser preciso pedirmos para sermos convidados?", questionou Jada Pinkett Smith, reforçando: "Chegámos, nós, a um novo tempo e lugar onde admitimos já não termos a necessidade de mendigar pelo amor, reconhecimento ou respeito de qualquer grupo?"
Vencedor de um Óscar honorário em 2015, Spike Lee escolheu o Instagram para também evocar a memória de Martin Luther King e expressar o seu protesto (em rodapé): "Como é possível pelo segundo ano consecutivo todos os 20 candidatos nas categorias de ator sejam brancos? E não entremos sequer nas outras categorias. Quarenta atores brancos em dois anos e sem qualquer gosto. Não podemos atuar? WTF!!"
A cerimónia dos Óscares está marcada para 28 de fevereiro. Brad Pitt e Brie Larson são nos grandes favoritos às estatuetas de melhor ator e atriz, mas pode haver surpresas. Única certeza: não será um afro-americano a ganhar.