EUA: Debate afiado entre democratas Clinton e Sanders
Comentários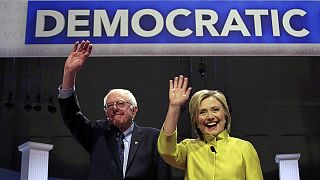 Duelo de argumentos entre Bernie Sanders e Hillary Clinton para conquistar votos na corrida à investidura democrata das presidenciais norte-americanas.
Com as primárias democratas a entrarem nos Estados de maioria afro-americana e hispânica, os candidatos cortejaram os eleitores, mas Clinton é considerada favorita nestas regiões.
"Eu quero eliminar as barreiras que muitos americanos agora enfrentam. Afro-americanos que fazem face a discriminação no mercado de trabalho, na educação, na habitação e no sistema judicial. Famílias de imigrantes que vivem no medo, devem sair das sombras para que as suas crianças possam ter um futuro melhor", declarou Clinton.
Ao ataque, Hillary Diane Rodham Clinton acusou Sanders de ser demasiado crítico de Barack Obama e de apresentar promessas irrealistas, que não pode cumprir, com a ampliação do sistema de saúde inovado pelo atual presidente norte-americano.
O senador defendeu-se. "Durante toda a minha vida lutei para garantir que o sistema de saúde é um direito para todas as pessoas. Nós não vamos desmantelar tudo. Na minha opinião, o sistema de saúde é um direito para todos, não um privilégio e eu vou lutar por isso", explicou.
The decision to have an abortion is a right of any woman without interference from politicians. #DemDebatehttps://t.co/IT9Uge7xud

— Bernie Sanders (@BernieSanders) 12 Février 2016
Sanders voltou a tocar no alegado excessivo apoio de Wall Street a Clinton, a antiga secretária de Estado argumentou que segue os passos de Barack Obama.
"I am not a single-issue candidate and I do not believe we live in a single-issue country." #DemDebatehttps://t.co/5smKhYambm

— Hillary Clinton (@HillaryClinton) 12 Février 2016
O próximo voto democrata está marcado para o dia 20, com o caucus do Nevada.