Rio2016: Delegação australiana pode, finalmente, ir para a aldeia olímpica
Comentários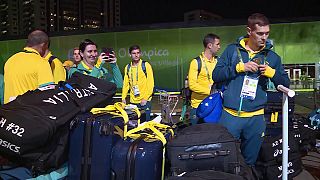 Os atletas australianos que vão competir nos Jogos Olímpicos, desde terça-feira que já podem ir diretamente para a aldeia olímpica.
"Roos" loos ready in Rio as team Australia returns to the Olympic Village https://t.co/papHtfpyhApic.twitter.com/3UmeRlUSlB

— euronews (@euronews) July 27, 2016
A Chefe de Missão australiana, Kitty Chiller, já afirmou estar muito
contente com a evolução dos trabalhos e com o fato de os atletas australianos poderem, finalmente, ocupar os apartamentos da aldeia olímpica.
Desde 21 de julho que a delegação australiana devia estar no local, mas optaram por ficar em hotéis devido a vários problemas nos acabamentos.
Múltiplos problemas nas canalizações e instalações de gás e eletricidade, levaram a que a delegação viesse a recusar ocupar os apartamentos que lhe tinham sido atribuídos.
Segundo a organização, todos os prédios devem estar prontos quinta-feira, oito dias antes da abertura dos Jogos, em 5 de agosto.