EUA: Canábis continua ilegal perante a lei federal
Comentários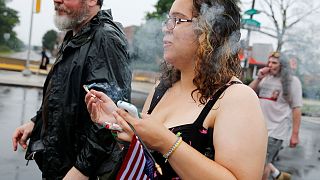 A DEA (Drug Enforcement Administration) – entidade para o controlo das drogas, dos Estados Unidos da América – manteve, esta quinta-feira, a classificação da canábis como uma droga perigosa e sem utilidade medicinal.
#DEAHQ has concluded there's no evidence that marijuana should be removed from Schedule I. https://t.co/7jJ6HRmU28

—

DEA

HQ (@DEAHQ) August 11, 2016
A decisão deita por terra a pretensão de dois antigos governadores que tinham pedido ao organismo para reclassificar a canábis como sendo própria para uso médico.
A entidade informou que a decisão é corroborada pelo Departamento de Saúde e Serviços Humanos que "concluiu que a canábis tem um grande potencial mas não tem utilidade medicinal", no país por não ter "um nível aceitável de segurança, mesmo sob supervisão médica".
Read #DEAHQ Acting Administrator's letter to marijuana petitioners https://t.co/rYEzkcKk3s

—

DEA

HQ (@DEAHQ) August 11, 2016
Contrariando a decisão federal, a canábis pode ser utilizada, com fins medicinais em 25 estados norte-americanos.
No Alasca, Washington, Oregon, Colorado e no Distrito de Colúmbia, a canábis pode ser usada por adultos, também, para fins recreativos.
This map shows the states with legal marijuana, and those voting soon via FortuneMagazine</a> <a href="https://t.co/F4J7HIeYgi">https://t.co/F4J7HIeYgi</a> <a href="https://t.co/TEu4QuES11">pic.twitter.com/TEu4QuES11</a></p>&mdash; Liz (LaTerribleLiz) July 3, 2016