Reino Unido: Colapso de ponte provoca o caos no trânsito da M-20
Comentários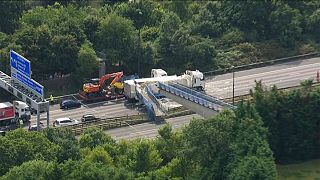 O colapso de uma ponte pedestre no Reino Unido provocou o caos no trânsito de uma das mais importantes autoestradas nas proximidades de Londres, a M-20. As autoridades tiveram de cortar as barreiras do separador central para permitir o aliviar do forte congestionamento criado pelo incidente entre as junções 3 e 4 daquela via de acesso.
BREAKING: Pedestrian bridge collapses on the UK's M20 motorway in Kent. pic.twitter.com/muz1KJcmKx

— Keith Walker (@KeithWalkerNews) 27 de agosto de 2016
A ponte terá caído sobre um camião, mas as imagens revelam dois camiões sob os escombros de metade da ponte. Pelo menos uma pessoa necessitou de assistência médica, um motociclista.
O incidente deu-se entre as junções 3 e 4 da M-20, autoestrada que serve por exemplo os aeroportos de Heathrow e Gatwick, junto a Londres, e que permite também a ligação da capital ao Túnel da Mancha.
If you're planning on travelling to Kent today, due to a bridge collapse on he #M20, there are long delays. pic.twitter.com/AKL0OsYDDM

—

RPU

– Surrey Police (@SurreyRoadCops) 27 de agosto de 2016
As autoridades anunciaram o corte temporário, pelo menos até este domingo, de parte da M-20 entre as junções 2 e 4.
Sendo este um fim de semana prolongado no Reino Unido, com o tradicional feriado de verão na última segunda-feira de agosto, as estimativas apontavam para mais de 10 milhões de carros a circular nas estradas britânicas, muitos deles, certamente, pela M-20.