Índia: ataque contra base militar na região de Caxemira faz 17 mortos
Comentários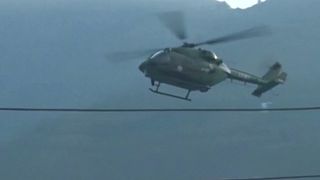 Na Índia, extremistas atacaram uma brigada do exército estacionada na região de Caxemira matando, pelo menos, 17 soldados e ferindo 18.
Notícias confirmam a morte dos quatro atacantes suicida que irromperam pela base militar às primeiras horas da manhã.
Death toll of Indian military reaches 17 with dozens injured in an attack on its Military HQ in Uri sector of Indian occupied #Kashmir.

— Pakistan Defence (@defencepk) September 18, 2016
O ataque teve lugar na base militar próximo à localidade de Uri situada nas imediações da Linha de Controlo que separa a região administrada pela Índia do Paquistão.
A ofensiva ocorre num momento de tensão na única região indiana de maioria muçulmana após o assassinato em julho de um comandante separatista.
Desde então, pelo menos, 78 civis foram mortos em confrontos com forças de segurança indianas.