Nobel da Literatura para o cantor e compositor Bob Dylan
Comentários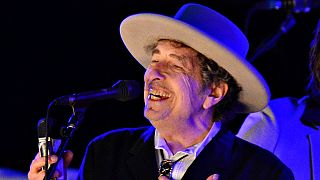 O cantor e compositor norte-americano Bob Dylan foi distinguido esta quinta-feira com o prémio Nobel da Literatura.
Uma homenagem, segundo o comité do prémio, ao papel de Dylan, de 75 anos, "na criação de novas expressões poéticas dentro da grande tradição da canção americana".
BREAKING 2016 #NobelPrize in Literature to Bob Dylan "for having created new poetic expressions within the great American song tradition" pic.twitter.com/XYkeJKRfhv

— The Nobel Prize (@NobelPrize) October 13, 2016
O anúncio apenas surpreendeu os mais incautos porque o nome artístico de Robert Allen Zimmerman há muito que era ventilado em Estocolmo.
O sucessor da bielorrussa Svetlana Alexievich, escreveu e interpretou temas como "Blowing in the Wind" e "The Times They are a Changin'", canções que se tornaram bandeiras dos movimentos dos direitos cívicos e anti-guerra nos Estados Unidos, na década de 60.