Suzanne Evans e Paul Nuttall candidatam-se à liderança do UKIP
Comentários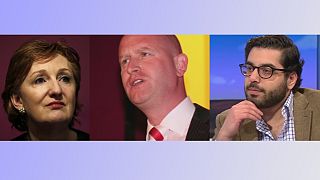 Suzanne Evans e Paul Nuttall anunciaram que são candidatos à liderança do partido britânico eurocético e anti-imigração UKIP. Ambos prometeram unir o partido que atravessa um período turbulento, depois da demissão do líder Nigel Farage, em julho.
Delighted paulnuttallukip</a> will also stand to be leader of UKIP. This is <a href="https://twitter.com/hashtag/TeamSensible?src=hash">#TeamSensible</a>. <a href="https://t.co/3WTwCxqUyw">pic.twitter.com/3WTwCxqUyw</a></p>&mdash; Suzanne Evans (SuzanneEvans1) October 23, 2016
Nuttal diz ter um grande apoio entre as bases e o topo da hierarquia do partido.
Today I am putting my hat in the ring for the leadership of UKIP. I believe I am the unity candidate the party needs to move forward

— Paul Nuttall (@paulnuttallukip) October 23, 2016
Nigel Farage afirmou que não vai votar em Suzanne Evans.
A candidata acusou outro rival na corrida à liderança do UKIP, Raheem Kassam, de se posicionar na extrema-direita, enquanto ela diz situar-se ao centro.
I have written SuzanneEvans1</a> following her "basket of deplorables" moment this morning. I hope she will meet with me. <a href="https://twitter.com/hashtag/MakeUKIPGreatAgain?src=hash">#MakeUKIPGreatAgain</a> <a href="https://t.co/qoKlJCiYZu">pic.twitter.com/qoKlJCiYZu</a></p>&mdash; Raheem Kassam (RaheemKassam) October 23, 2016
Steve Wolf, que era apontado como o favorito para líder, abandonou o UKIP, no início do mês, depois de uma alegada disputa com outro deputado europeu do partido o ter mandado para o hospital.
Farage regressou como líder interino do partido, após a demissão da sua sucessora Diane James, que ficou na liderança apenas 18 dias.
O novo líder do UKIP será anunciado a 28 de novembro.