Hugh Laurie já tem a sua estrela no Passeio da Fama
Comentários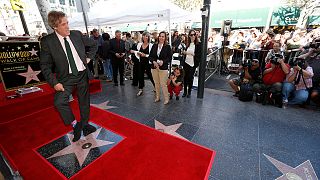 O ator britânico Hugh Laurie, muito conhecido pelo seu desempenho como Dr.House foi, terça-feira, homenageado com uma estrela no Passeio da Fama.
O ator de 57 anos, que desempenha o papel de um irresistível traficante de armas na minisérie O Gerente da Noite, esteve em Hollywood Boulevard mas não esqueceu as origens e fez questão de mostra que usava meias com a bandeira do Reino Unido.
.hughlaurie</a> strikes a few creative poses with his brand new star on the Hollywood Walk of Fame. <a href="https://t.co/TWMODnAjnA">https://t.co/TWMODnAjnA</a> <a href="https://t.co/6cY4UyaJVJ">pic.twitter.com/6cY4UyaJVJ</a></p>&mdash; Variety (Variety) October 25, 2016
Na cerimónia, Laurie foi acompanhado pelo seu ex-parceiro de comédia Stephen Fry, que indicou que, apesar do seu sucesso na televisão, Laurie ainda não ganhou um Emmy.