Ciclone Debbie deixa dezenas de milhares de australianos isolados
Comentários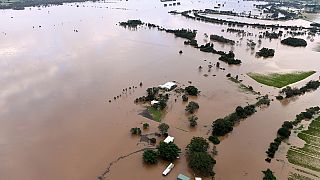 O poderoso ciclone Debbie que varreu a costa leste da Austrália, e que destruiu pontes e cortou estradas, deixou dezenas de milhares de australianos isolados. Pelo menos duas pessoas morreram.
John Muntz causeway suffered major damage from the #bigwet! It will be closed for some time with detours in place, https://t.co/bytabM2Pufpic.twitter.com/6bcozkU8f9

— Transport Main Roads (@TMRQld) 1 de abril de 2017
Mais de 100 mil casas ficaram sem eletricidade depois da passagem daquele que é o considerado o pior ciclone, a atingir o país, desde 2011.
O instituto de meteorologia local diz as águas de seis rios atingiram níveis elevadíssimos, e continuam a subir em várias áreas, provocando enchentes.
#CycloneDebbie: #Logan flooding now worse than 1974, body found in waters https://t.co/imAtOo4m28pic.twitter.com/vDgfdXoM3x

—

ABC

Emergency (@ABCemergency) 1 de abril de 2017
A prioridade é ajudar as pessoas:
"Nas últimas 24 horas centrámos os nossos esforços no resgate em locais onde houve inundação, certificando-nos de que as pessoas estão seguras. Agora, estamos a centrar-nos naquelas que estão isoladas e a certificar-nos de que têm comida suficiente. Esperamos que segunda-feira a situação já esteja em fase de recuperação", adianta o Comissário dos serviços emergência de Gales do Sul Mark Smethurst,
O Debbie atingiu o estado de Queensland na terça-feira, destruindo empreendimentos turísticos e fechando as minas de carvão.
O pior já passou, dizem as autoridades, mas estão ainda a ser efetuadas operações de resgate e as de limpeza e restabelecimento dos serviços básicos já começaram.
Brisbane may also face flooding#CycloneDebbiehttps://t.co/YWIg5kX0BPpic.twitter.com/1SVtjsZG30

— The Straits Times (@STcom) 1 de abril de 2017