Alemanha: Escrutínio na Renânia do Norte-Vestefália pode ditar quem será o próximo chanceler
Comentários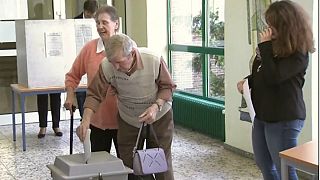 Os conservadores da chanceler alemã, Angela Merkel, esperam conquistar, este domingo, o estado da Renânia do Norte-Vestefália, nas mãos dos sociais-democratas do SPD há mais de meio século.
A CDU de Merkel pretende capitalizar o descontentamento dos 18 milhões de habitantes, em relação à crescente criminalidade, a um sistema educacional com um fraco desemprenho e ao desemprego, relativamente elevado em relação à média germânica.
Good to know ahead of elections in North Rhine-Westphalia: State with highest level of unemployment in western Germany (7.7%) #LtwNRWpic.twitter.com/WCFc3BfaMy

— DW | Politics (@dw_politics) May 13, 2017
Quanto às expectativas…
Um dos eleitores espera que "pelo menos, uma mudança para que possamos esquecer esses mais de 50 anos com o SPD no poder".
"Quero que o SPD, a CDU e o FDP sejam fortes pois acredito que esses são os partidos que podem melhorar, de facto, as coisas", afirma um alemão.
O escrutínio, deste domingo, é o teste final para Angela Merkel e para o antigo presidente do Parlamento Europeu, Martin Schulz, antes das eleições federais de 24 de setembro.
Several big elections are coming up – and Angela Merkel faces a challenge this weekend https://t.co/qg9vgHm2ydpic.twitter.com/aoWDfeWeIG

— Bloomberg (@business) May 13, 2017
Nas eleições estatais deste ano, os conservadores mantiveram-se no poder em Sarre e derrubaram o SPD no estado Eslésvico-Holsácia, no norte do país.
Angela Merkel is riding high in Germany, with two state elections done and one more to go https://t.co/Phm6lDktfhpic.twitter.com/zGs13qntLQ

— Bloomberg (@business) May 10, 2017