Tribunal da UE defende sistema de quotas migratórias
Comentários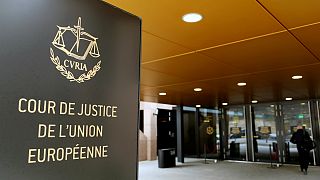 O Tribunal de Justiça da União Europeia defende a relocalização de migrantes no espaço comunitário face à oposição da Eslováquia e da Hungria.
Os juízes baseados no Luxemburgo rejeitaram esta quarta-feira o recurso interposto pelos governos dos dois países contra o sistema de quotas migratórias acordado em 2015 face ao afluxo de milhares de pessoas à Grécia e Itália.
O sistema de relocalização, contestado por Budapeste e Bratislava, previa a distribuição de cerca de 160 mil pessoas, embora apenas 25 mil tenham sido até agora transferidas para outros países da União.
A Eslováquia tinha acolhido apenas 16 de 902 migrantes, enquanto que a Hungria rejeitou receber qualquer refugiado depois de mais de 50 mil terem cruzado o país.
Apesar da renitência de outros países como a Polónia, a Áustria ou a República Checa, o Tribunal de Justiça da UE considerou que o plano migratório é legal e uma resposta válida e funcional à crise migratória que afeta o continente.
ECJ rules against Hungarian and Slovak challenge to EU law on relocation of asylum seekers. Full text of judgment: https://t.co/IlMeS8yk7apic.twitter.com/tH5DhVOCuV

— Steve Peers (@StevePeers) September 6, 2017
Em Junho a Comissão Europeia tinha aberto um procedimento por infração contra a Polónia, Hungria e República Checa por recusarem-se a acolher refugiados no respetivo território nacional.