Eurovisão: Já são conhecidos todos os finalistas
Comentários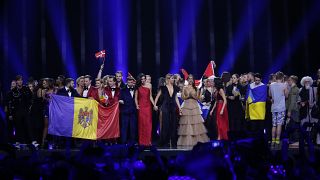 Siga minuto a minuto as redes sociais
Já estão apurados todos os finalistas da Eurovisão 2018. A final irá decorrer estes sábado, em Lisboa, às 20h (hora de Lisboa).
Finalistas desta segunda semifinal:
NORUEGA
UCRÂNIA
SUÉCIA
AUSTRÁLIA
HOLANDA
DINAMARCA
ESLOVÉNIA
SÉRVIA
MOLDÁVIA
HUNGRIA
Lista de finalistas:
Sérvia: Nova Deca - Sanja Ilić & Balkanika
Moldávia: My Lucky Day - DoReDoS
Hungria: Viszlát Nyár - AWS
Ucrânia: Under The Ladder de MELOVIN
Suécia: Dance You Off de Benjamin Ingrosso
Austrália: We Got Love de Jessica Mauboy
Noruega: That's How You Write A Song de Alexander Rybak
Dinamarca: Higher Ground d Rasmussen
Eslovénia: Hvala, ne! de Lea Sirk
Holanda: Outlaw In 'Em de Waylon
Aústria: Nobody But You de Cesár Sampson
Estónia: La Forza de Elina Nechayeva
Chipre: Fuego deEleni Foureira
Lituânia: When We're Old de Ieva Zasimauskaitė
Israel: TOY de Netta
República Checa: Lie To Me de Mikolas Josef
Bulgária: Bones de EQUINOX
Albânia: Mall de Eugent Bushpepa
Finlândia: Monsters de Saara Aalto
Irlanda: Together de Ryan O'Shaughnessy
Estes países juntam-se a Portugal, Espanha, França, Reino Unido, Alemanha e Itália, países que já estão diretamente apurados.
Os favoritos à vitória são o Chipre, Israel, Lituânia, França e a Noruega.
Quem ficou de fora desta semifinal?
ROMÉNIA
The Humans - Goodbye
SÃO MARINO
Jessika ft Jenifer Brening - Who We Are
RÚSSIA
Julia Samoylova - I Won't Break
GEORGIA
Ethno-Jazz Band Iriao - For You
POLÓNIA
Gromee feat. Lukas Meijer - Light Me Up
MALTA
Christabelle - Taboo
LETÓNIA
Laura Rizzotto - Funny Girl
MONTENEGRO
Vanja Radovanović - Inje