Tribunal belga adiou decisão sobre independentistas catalães
Comentários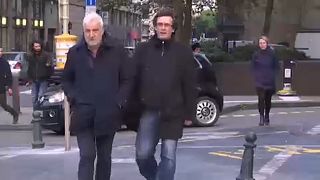 Um tribunal belga adiou a decisão sobre o pedido de extradição do ex-líder catalão Carles Puigdemont e de quatro dos seus ex-conselheiros, apresentado pela justiça espanhola.
O Ministério Público pediu, esta sexta-feira, que o mandado de detenção fosse executado, mas o juiz quer ouvir os advogados de defesa a 4 de dezembro.
Paul Bekaert, advogado de Puigdemont, esclareceu que "o procurador alegou que, de acordo com a lei belga, não há um crime de corrupção, mas que houve conspiração por parte de funcionários públicos".
Belgian prosecutors have backed Spain's request that former Catalan leader Puigdemont be extradited https://t.co/re23U9EpSL

— Financial Times (@FT) November 17, 2017
Estes cinco líderes independentistas estão em Bruxelas desde 30 de outubro, após terem sido destituídos pelo Governo espanhol.
Puigdemont tem dito que teme que os seus direitos não sejam respeitados pela justiça espanhola e o tribunal belga já pediu informações sobre as condições de detenção.
A correspondente da euronews, Ana Lazaro, acrescenta que "qualquer que seja a decisão do juiz em dezembro, a defesa terá a possibilidade de apelar em duas ocasiões, mas o mandado europeu de detenção segue por agora o seu curso".
Catalan President Carles Puigdemont faces charges of rebellion and sedition. We asked Catalans if the punishment fits the crime. pic.twitter.com/9g2cyk20c8

— AJ+ (@ajplus) November 17, 2017