Netanyahu em Washington para visita que irrita Casa Branca
Comentários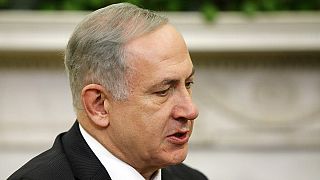 O primeiro-ministro israelita chegou a Washington para uma visita de três dias que não é vista com bons olhos pela administração norte-americana.
Benjamin Netanyahu centra a deslocação no acordo sobre o nuclear iraniano que a Casa Branca pretende concluir até ao fim de março, ao qual se opõe ferozmente.
We are strongly opposed to the agreement being formulated between the world powers and Iran that could endanger Israel's very existence.

— בנימין נתניהו (@netanyahu) March 1, 2015
O chefe do governo israelita veio aos Estados Unidos a convite do líder da Câmara dos Representantes, o republicano John Boehner, e deverá discursar amanhã perante o Congresso. Confrontada com uma visita organizada sem o seu conhecimento, a administração Obama excluiu um encontro com Netanyahu.
Israel acredita que um acordo entre as grandes potências e Teerão não impedirá o regime iraniano de obter armamento nuclear. Antes de sair de Israel, Netanyahu afirmou deslocar-se a Washington "para uma missão crucial e mesmo histórica" e disse ainda sentir-se como "um emissário de […] todos os judeus".
Uma afirmação "arrogante", segundo a senadora democrata de origem judaica Dianne Feinstein.
A deslocação ocorre em plena campanha para as legislativas israelitas de 17 de março.