Olímpiadas: "T", sol nascente e igualdade nos logotipos de Tóquio 2020
Comentários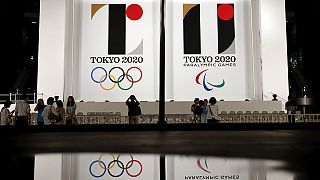 No Japão foram revelados esta sexta-feira os símbolos dos Jogos de Verão Olímpicos e Paraolímpicos, que vão decorrer em Tóquio em 2020. A cinco anos exatos do início das olímpiadas, o sol nascente marca presença em ambos os logotipos.
O dos Jogos Olímpicos é baseado na letra "T", em ligação direta com a cidade sede dos Jogos, Tóquio, e com as palavras inglesas "Team" e "Tomorrow" ("equipa" e "amanhã").
O logotipo dos Jogos Paraolímpicos baseia-se em duas barras verticais paralelas e é inspirado no símbolo universal da igualdade.
Os símbolos foram criados pelo artista japonês Kenjiro Sato e foram apresentados no Tokyo City Hall. No evento estiveram presentes o presidente do Comité Organizador dos Jogos de 2020, Yoshiro Mori; o governador de Tóquio, Yoichi Masuzoe; e o vice-presidente do Comité olímpico Internacional (COI), John Coates.
Exactly 5 years to go! It's time to unveil the #Tokyo2020 Olympic & Paralympic Games emblems http://t.co/Kazll6OSYYpic.twitter.com/wonPDQ97B6

—

TOKYO

● 2020 (@Tokyo2020) 24 julho 2015
"O logotipo reflete a naturezavibrante da cidade e o espírito acolhedor dos seus cidadãos", descreveu o "vice" de Thomas Bach.