Austrália: Partido no poder "ejeta" o próprio primeiro-ministro
Comentários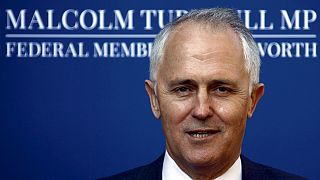 O primeiro-ministro australiano, Tony Abbot, perdeu a "moção de censura" lançada pelo Partido Liberal, o seu próprio partido.
#Australia PM Tony #Abbott unseated by Malcolm #Turnbullhttp://t.co/lipo0J7YWI#politics

— Andrej Matisak (@matisaksk) 14 Septembre 2015
Malcolm Turnbull substitui-lo-á na chefia do governo. O antigo banqueiro e multimilionário ganhou a confiança dos liberais, num voto interno do partido, por 54 contra 44 vozes.
Extremamente criticado em vários campos, interna e externamente, Abbott é responsável pela perda de popularidade do governo australiano.
Bonne nouvelle du jour : Tony #Abbott va cesser de nous exaspérer, et ce à 80 jours de la #COP21 :) http://t.co/oMgp4Mq1bV

— PCatalan (@PierreC) 14 Septembre 2015
It's amazing to see #Abbott gone as Australian PM. A truly terrible leader – he waged war against a long list of good causes.

— GeorgeMonbiot (@GeorgeMonbiot) 14 Septembre 2015
Mas o primeiro-minsitro tinha afirmado estar preparado para esta tentativa de "golpe de Estado" no seio do seu próprio partido.
Turnbull será o 5.° primeiro-ministro da Austrália em 8 anos.