Assassinado líder de partido da oposição na Venezuela
Comentários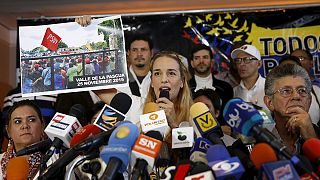 Luis Manuel Diaz, líder do partido da oposição Ação Democrática, da Venezuela, foi assassinado em plena campanha eleitoral para as legislativas de 6 de dezembro.
Re: teleSUR:
What the Media Won't Admit About the Venezuela Opposition Death
#LuisManuelDíaz
https://t.co/viBqhXLYyXpic.twitter.com/ALGmlF63Fo

— 河内丸(裁判員制度を即時廃止せよ) (@Kawachi_Maru) 27 Kasım 2015
Diaz participava num comício, na quarta-feira ao final da tarde, quando foi baleado mortalmente. Na ação participava a mulher de Leopoldo López, o líder da oposição que está detido.
Asesinan al opositor venezolano Luis Manuel Díaz en un acto político. La mujer de Leopoldo Lopez estaba al lado https://t.co/uuNqwG4WHK

— Gastón Cavanagh (@gastoncavanagh) 26 Kasım 2015
As autoridades venezuelanas dizem que a morte se deveu a confrontos entre grupos rivais.