Esqui Alpino: Svindal "voa" para a vitória no "Downhill" de Lake Louise
Comentários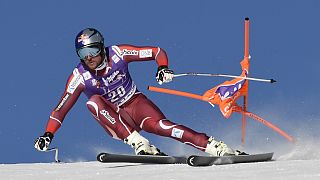 Aksel Lund Svindal regressou em grande na estreia do "Downhill" na presente edição da Taça do Mundo de esqui alpino. O norueguês falhou toda a época passada devido a uma lesão no tendão do Aquiles sofrida ainda antes da competição, perdeu o título da especialidade para o compatriota Kjetil Jansrud, mas parece apostado em recupera-lo.
Depois do modesto 24.° lugar no "slalom" gigante que abriu a época há um mês em Solden, na Áustria, desta feita Svindal "voou" mesmo para a vitória nas encostas de Lake Louise, no Canadá.
O norueguês cumpriu a descida em 1.47,290 minutos, mas o triunfo foi apertado. A apenas um centésimo de Svindal, ficou o italiano de influência austríaca Peter Fill.
Na terceira posição, ficou o norte-americano Travis Ganong, a 36 centésimos do vencedor. O quarto classificado foi o francês Guillermos Fayed, a 17 centésimos do pódio.
Impressive comeback for akselsvindal</a>! He wins the Lake Louise downhill ahead of <a href="https://twitter.com/peter_fill">peter_fill and TravisGanong</a> <a href="https://t.co/PQBmCBWZGB">pic.twitter.com/PQBmCBWZGB</a></p>&mdash; FIS Alpine (fisalpine) 28 novembro 2015
Nesta primeira prova de "Downhill" da temporada, o atual campeão do Mundo da especialidade terminou no 9.° lugar. Jansrud ficou a 77 centésimos de Svindal.
Este domingo, as encostas de Lake Louise são palco ainda de uma etapa de "Slalom" Super Gigante, a terceira etapa da Taça do Mundo de Esqui Alpino.
1'30''