Corpos do padre Pio e de São Leopoldo Mandic já estão no Vaticano
Comentários
De
Euronews
com
REUTERS, AGENCIA ECCLESIA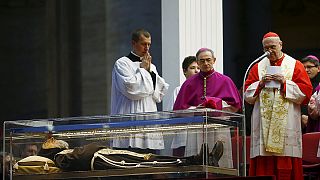 Os corpos do padre Pio e de São Leopoldo Mandic, santos confessores da Igreja Católica, já estão no Vaticano para as celebrações deste fim de semana, integradas no Jubileu da Misericórdia convocado pelo Papa Francisco.
As relíquias chegaram a Roma na quarta-feira e estiveram na Basílica de São Lourenço fora de muros até à procissão solene desta sexta-feira.
Body of Padre Pio Takes Journey to be Displayed at the Vatican https://t.co/xhm6vj4Yvl

— Catholic Pulse (@CatholicPulse) February 4, 2016
Os dois santos vão ficar na Basílica de São Pedro para a veneração dos fiéis até ao dia 11 de fevereiro.