Esqui Alpino: Shiffrin domina última prova Slalom da temporada
Comentários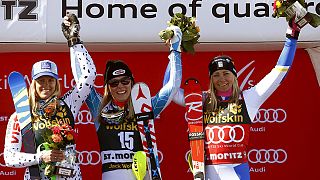 Mikaela Shiffrin fecha a temporada de 2015/2016 tal como começou: a dominar. A norte-americana venceu a última prova de Slalom da época, em Saint-Moritz, na Suíça com mais uma vitória.
Winners of the day: MikaelaShiffrin</a> takes the win, <a href="https://twitter.com/hajdotter">hajdotter grabs the globe in the #stmoritzfinals slalom pic.twitter.com/LYo1S1eWd8

—

FIS

Alpine (@fisalpine) 19 de março de 2016
Esta é a quinta vitória de Shiffrin na edição deste ano Taça do Mundo de Esqui Alpino…mas não foi o suficiente para levar para casa o Globo de Cristal da disciplina que foi conquistado pela sueca Frida Hansdotter.
Nesta última prova, ao segundo lugar do pódio subiu Veronika Velez Zuzulova. A eslovaca ficou a mais de 2 segundos da norte-americana.
No terceiro lugar ficou Frida Hansdotter. A sueca também realizou uma prova sem grandes pressões uma vez que já tinha então assegurado a conquista do Globo de Cristal no Slalom. A esquiadora foi muito regular na temporada. Em sete das dez provas terminou num dos lugares do pódio e nunca ficou fora do top-10.