Jogo do Manchester United cancelado por causa de saco suspeito no Old Trafford
Comentários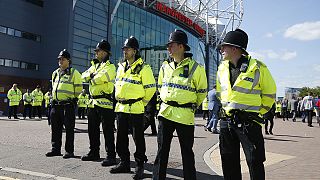 O jogo do Manchester United foi cancelado por causa de um saco suspeito encontrado no Old Trafford. A brigada anti-terrorista fez explodir a embalagem suspeita.
Latest update: A controlled explosion has just been carried out within the stadium by bomb disposal experts at Old Trafford. More to follow.

— G M Police (@gmpolice) 15 mai 2016
Minutos antes do início da partida do Manchester United contra o Bournemouth, pela última rodada do Campeonato Inglês, cerca de 20 mil pessoas que estavam no setor Stretford End receberam ordens para sair do estádio. Pouco depois, o Manchester informou, pelo Twitter, que a polícia estava a inspecionar um saco suspeito encontrado no quadrante nordeste. Finalmente, o público foi evacuado de todos os setores.
Due to the discovery of a suspect package in the NW Quadrant of the ground, the match has been abandoned today on police advice. #mufc

— Manchester United (@ManUtd) 15 mai 2016
Following the abandonment of #MUNBOU, the Premier League has issued the following statement… pic.twitter.com/ra4zOaWIwr

— Premier League (@premierleague) 15 mai 2016