Tailândia aprova nova Constituição por referendo
Comentários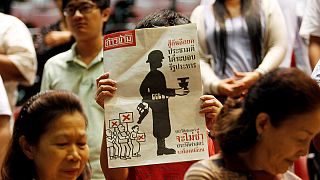 A Tailândia votou e aprovou este domingo um referendo para o texto da nova Constituição e poderes do Senado para vetar leis e reformas constitucionais.
Thailand just voted to make itself even less democratic https://t.co/KVsUfFdPAL

— The Independent (@Independent) August 7, 2016
A Constituição, elaborada, proposta e levada agora a votação, é uma iniciativa do governo de junta militar vigente, com o primeiro-ministro e General Prayuth Chan-ocha à cabeça.
O Senado é escolhido a dedo pelo governo e fica assim com poder para interferir na eleição do primeiro-ministro.
Today, #Thailand votes on constitution that could threaten democracy, says JoshKurlantzick</a>: <a href="https://t.co/Evf1XtIxVH">https://t.co/Evf1XtIxVH</a> <a href="https://t.co/S65DStTKMh">pic.twitter.com/S65DStTKMh</a></p>&mdash; CFR (CFR_org) August 7, 2016
Um estreitar do poder militar no país, agora aprovado constitucionalmente, que defensores dos direitos humanos têm criticado, com detenção de activistas políticos e de estudantes antes do referendo e acusações de tortura.
#Thailand former prime ministers Abhisit Abhisit_DP</a> & Yingluck <a href="https://twitter.com/PouYingluck">PouYingluck publicly reject junta's draft charter. pic.twitter.com/eHqtDIwDnT

— Sunai (@sunaibkk) August 2, 2016
Dados da Comissão Eleitoral dizem que com 94% dos votos estão já contados: 62% dos eleitores aprovaram a nova constituição.
Vote counting was frozen for Sunday, the Election Commission says. #ThaiReferendumpic.twitter.com/ZALyIFrXlR

— Bangkok Post (@BangkokPostNews) August 7, 2016
Eleições gerais estão marcadas para 2017.