Iémen: População exige o fim da guerra civil
Comentários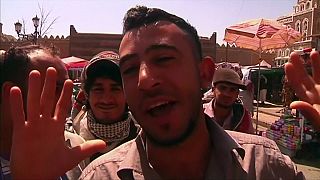 Os iemenitas querem mais do que um cessar-fogo de três dias, querem o fim da guerra civil que guerra flagela o país desde março de 2015.
A trégua entra em vigor às 23:59 horas locais desta quarta-feira (21:59 em Lisboa).
As Nações Unidas informaram que tanto o Presidente do Iémen, Abdu Rabu Mansur Hadi, como os rebeldes hutis aceitaram os termos do cessar-fogo.
A população exige o fim do conflito.
"Tréguas? Precisamos é que a guerra acabe. Não queremos outro cessar-fogo de três dias. Queremos o fim da guerra", afirma um habitante de Sanaa, a capital do Iémen.
Outro afirma que "falam de tréguas mas depois voltam aos ataques aéreos. Eles destruíram as nossas casas, destruíram os nossos filhos. Eles atacaram uma casa mortuária, salões de casamentos, mesquitas e escolas. Eles têm atingido tudo. Eles destruíram as infraestruturas. De onde veio essa trégua? Quem vai aceitá-la?", questiona.
I know #Yemenis are strong, but #Hunger will kill them stand up and support #Yemen, it's the time to Say enough
Join us:End The War In Yemen pic.twitter.com/NmitOWkXiK

— Living in Yemen (@Living_Yemen) October 18, 2016
Segundo as Nações Unidas, o cessar-fogo vai evitar mais mortes.
Os termos do acordo obrigam as duas fações a permitir o acesso livre e sem restrições de assistência humanitária à população, em todo o país, além de uma pausa total em todas as atividades militares.
UN hopes Yemen ceasefire will bring relief to areas 'cut-off' by fighting https://t.co/O44a9ljUpq

— Middle East Monitor (@MiddleEastMnt) October 18, 2016