Presidente do Parlamento Europeu tenta salvar acordo comercial com o Canadá
Comentários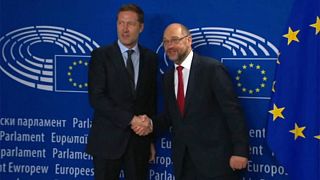 O presidente do Parlamento Europeu tentou salvar o Acordo Económico e Comercial Global (CETA) com o Canadá, um dia depois de a oposição da região belga da Valónia ter impedido que os responsáveis europeus aprovassem o CETA.
Este sábado, Martin Schulz reuniu-se com a ministra do Comércio Internacional do Canadá, Chrystia Freeland, e, depois, com o chefe do Governo da Valónia, Paul Magnette. "Há ainda algumas pequenas dificuldades entre nós, europeus. Não o devemos esconder. Não estou aqui para criar problemas. Estou aqui, pelo contrário, para procurar assegurar que temos tratados com um nível de proteção em matéria social de serviço público, em matéria de ambiente com um nível de garantia jurídica que seja o mais elevado do mundo", realçou Magnette.
"A meu ver não há qualquer problema que não possamos resolver. Estou muito otimista que vamos encontrar soluções para o CETA, que vão ainda melhorar um projeto de um tratado internacional de comércio que já é muito, muito bom", disse Martin Schulz.
My statement following this morning's fruitful and constructive meetings with cafreeland</a> and <a href="https://twitter.com/PaulMagnette">PaulMagnette on #CETA in #EPpic.twitter.com/YeGBKhe9zg

— EP President (@EP_President) October 22, 2016
A organização Greenpeace tem-se manifestado contra o CETA, preocupada com os tribunais arbitrais para resolver conflitos entre as empresas e as administrações públicas, que considera outorgar privilégios aos investidores estrangeiros.
#CETA is full of cracks, fresh lick of paint won't fix rotten foundation. Our comment on today's #EUCOhttps://t.co/CvoigXll7x#StopCETApic.twitter.com/Buehj0rgop

— Greenpeace EU (@GreenpeaceEU) October 21, 2016