Trump e Putin defendem reforços de armamentos nucleares
Comentários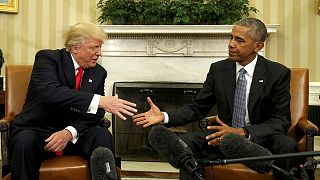 Uma nova corrida ao armamento nuclear ou duas mentes em sintonia? O próximo presidente dos Estados Unidos, Donald Trump, afirmou esta quinta-feira, através do Twitter, que o seu país "precisa de fortalecer e expandir de forma significativa as suas capacidades nucleares, até que o mundo recupere o bom senso".
The United States must greatly strengthen and expand its nuclear capability until such time as the world comes to its senses regarding nukes

— Donald J. Trump (@realDonaldTrump) 22 décembre 2016
A declaração de Trump surge poucas horas depois do presidente russo, Vladimir Putin, também se ter pronunciado pelo "reforço do potencial militar das forças nucleares estratégicas" do seu país.
Putin disse que a Rússia "é atualmente mais forte do que qualquer agressor potencial", mas fez questão de "chamar a atenção para o facto de que se [o país] permitir um relaxamento, a situação pode mudar de forma bastante rápida".
Segundo os números da Campanha Internacional para a Abolição de Armas Nucleares, a Rússia dispõe atualmente de 7300 ogivas nucleares e os Estados Unidos perto de 7000.