Onda de calor "alimenta" incêndios no lesta da Austrália
Comentários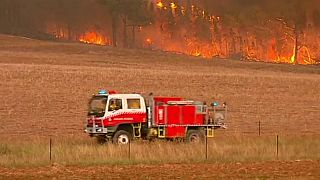 O fogo continua a dizimar o estado de Nova Gales do Sul, na Austrália. A onda de calor levou a temperatura a bater recordes máximos em alguns locais da costa leste australiana e está a ajudar as chamas a devastar largas zonas de mato, ameaçando casas, gado e animais selvagens.
State-wide average max temperature of 44C yesterday set a new February record for the 2nd day in a row. Follows 42.4 on Friday #NSWweather

—

BOM

New South Wales (@BOM_NSW) 12 de fevereiro de 2017
Com a Austrália já nas primeiras horas de segunda-feira, 13 de fevereiro, os serviços locais de combate a incêndios admitem que este domingo terá sido o dia mais perigoso em termos de incêndios na história do estado de Nova Gales do Sul .
Today has been the most dangerous day of fire conditions in NSW history. Catastrophic fire danger confirmed in several areas. #NSWRFS

—

NSW

RFS

(@NSWRFS) 12 de fevereiro de 2017
Mais de 2000 bombeiros, muitos deles voluntários, estão a combater quase 90 focos de incêndio, dos quais pelo menos 38 se mantinham fora de controlo na noite de domingo.
Algumas regiões ficaram privadas de comunicações móveis e certas localidades receberam alertas de evacuação devido ao perigo provocado pela aproximação do fogo.
EMERGENCYWARNING – Spring Hill Rd, #Dondingalonghttps://t.co/GEjR4jKYtD People near Ballengara Rd & Pipers Creek Rd SEEKSHELTER#alert

—

NSW

RFS

(@NSWRFS) 12 de fevereiro de 2017
Pelo menos três pessoas foram já detidas sob suspeita de fogo posto, incluindo um adolescente de 13 anos.
NSWRFS</a> <a href="https://twitter.com/ABCemergency">ABCemergency People in catastrophic bushfire areas told to leave, emergency warnings for 4 #nswfires remain pic.twitter.com/1pK6ocgbl4

— Ed Joyce (@EdJoyce) 12 de fevereiro de 2017
Fire in #dunedoo today. Stay safe #nswrfs#rfs#nswfirespic.twitter.com/Qz7nZ8gXHq

— Lizzy Galloway (@LizzyGalloway) 12 de fevereiro de 2017