Alemão decapitado por grupo radical filipino
Comentários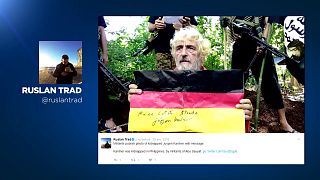 Nas Filipinas, um septuagenário alemão foi decapitado pelo grupo extremista islâmico Abu Sayaf, um movimento com ligações ao Daesh que divulgou agora um vídeo que mostra a morte de Jürgen Kantner às mãos de um membro do grupo.
O alemão tinha sido raptado no início de novembro, quando o veleiro em que viajava foi encontrado à deriva. As autoridades encontraram no interior da embarcação o corpo sem vida da companheira. O casal de velejadores já tinha, uma vez, sido raptado por um grupo radical e depois libertado.
#Philipinnes ; #AbuSayyaf beheads German hostage Jurgen Kantner after talks about his ransom collapsed https://t.co/3OpgOwT5INpic.twitter.com/78UbuE7mFJ

— Asia News Bulletin (@oyoumi22) February 26, 2017
Militants publish photo of kidnapped Jurgen Kantner with message.

Kantner was kidnapped in Philippines, by militants of Abu Sayyaf. pic.twitter.com/Gyxzt5qzi6

— Ruslan Trad (@ruslantrad) December 29, 2016
O Abu Sayaf é um movimento especialista na extorsão de dinheiro através de raptos e pedidos de resgate. Foi fundado no início dos anos 90, com financiamento da Al Qaeda, mas recentemente prestou juramento ao Daesh.