Trump acusa Obama de responsabilidade por protestos contra republicanos
Comentários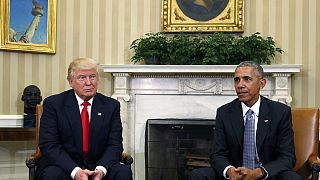 O presidente dos EUA acusou, em entrevista ao canal de televisão Fox News, o seu antecessor de responsabilidade pela fuga de informação e pelos recentes protestos contra congressistas e senadores republicanos, por todo o país.
Donald Trump volta a apontar baterias a Barack Obama:
"Bem, nunca se sabe o que acontece nos bastidores, provavelmente tem razão, ou possivelmente, nunca se sabe. Eu acho que o presidente Obama está por trás disso, porque quem o apoia está, seguramente. E alguma da fuga de informação vem, possivelmente, desse grupo.
Sabe, algumas das fugas de informação, que são realmente importantes, porque são muito más em termos de segurança nacional… Mas eu também entendo que é política, em termos de ele estar por trás destas coisas, isso é política, e vai provavelmente continuar", afirmou o chefe de Estado.
"I think President Obama's behind it, because his people are certainly behind it." – POTUS</a> on some of the protests around the country <a href="https://t.co/YC3SEAYFts">pic.twitter.com/YC3SEAYFts</a></p>— FOX & friends (foxandfriends) 28 février 2017
Não é a primeira vez que Trump lança acusações a Barack Obama. Ao mesmo canal de televisão tinha afirmado que as informações que vieram a público, sobre os telefonemas que fez aos presidentes do México e da Austrália, foram responsabilidade daqueles a que chamou de "povo de Obama".
'OBAMA'S BEHIND IT': Trump tells Fox & Friends ex-president has role in leaks, protests https://t.co/GCMHx6qhU3

— Fox News (@FoxNews) 28 de fevereiro de 2017