Joni Sledge (we are family) encontrada sem vida em casa
Comentários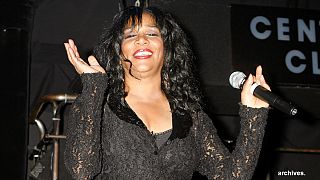 Encontrada em casa sem vida. A cantora norte-americana Joni Sledge, vocalista e fundadora da banda Sister Sledge, morreu na sexta-feira.
A morte da cantora foi inesperada, uma vez que não estava doente e tinha previsto atuar com a banda no próximo sábado em Los Angeles, disse o seu agente, Biff Warren, ao canal de televisão CNN.
Sledge, influenciada pelo disco sound, soul e R&B, tinha vários concertos previstos na Europa.
As Sister Sledge foram as autoras do grande êxito 'We Are Family'.
RIP Joni Sledge, whom with her 3 sisters made the 1979 disco hit "We Are Family" pic.twitter.com/gYQQYP5lFM

— 70's 80's 90's (@70s80sAnd90s) March 12, 2017
As Sister Sledge – Debbie, Kim, Joni e Kathy Sledge – formaram em 1971 a sua banda, tendo gravado pouco tempo depois o seu primeiro disco, um single, "Time Will Tell", pela discográfica Money Back.
Surgiram depois os temas "Weatherman" e "Mama never told me", já pela Atco.
Desde então foram somando êxitos sucessivos, como "Love don't you go through no vhanges on me", surgindo o seu primeiro álbum em 1975, "Circle of love".
"We Are Family" que a lançou na ribalta internacional é de 1979. Do LP seguinte, "Love Somebody Today", tornam-se êxitos as canções "Got to love somebody" e "Pretty baby", "My Guy" e "Reach Your Peak" são as canções seguintes que escalam os tops internacionais.