Venezuela: 7 semanas de protestos contra Nicolás Maduro
Comentários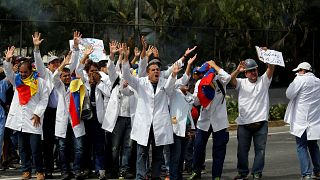 A oposição venezuelana voltou às ruas, na segunda-feira, e juntou-se aos trabalhadores da área da saúde que marcharam contra o governo de Nicolás Maduro.
Esta é a sétima semana, consecutiva, de protestos contra o presidente.
New normal in Venezuela. This is Caracas' upscale Altamira neighborhood just minutes ago. pic.twitter.com/31ifpvWW6S

— Alexandra Ulmer (@AlexandraUlmer) May 22, 2017
A oposição, médicos, estudantes de medicina, entre outros, exigiram que o Governo colocasse fim à escassez de medicamentos e materiais básicos, que colocam em causa os cuidados de saúde, no país.
"Quantos médicos deixaram o país? Calcula-se que mais de 20 mil médicos deixaram a Venezuela nos últimos tempos para exercer medicina noutros países. Nós, venezuelanos, estamos a perder tudo, mas eles não conseguiram roubar-nos a nossa esperança, a nossa convicção, a nossa firmeza, como estamos a demonstrar, lutando para que nosso país tenha um futuro", afirmou o líder da oposição Henrique Capriles.
#22May doctors and nurses take the streets of Caracas today to demand opening of humanitarian channel and delivery of medicines #ThisIsVzlapic.twitter.com/3BRI00ZZPd

— Stefano Pozzebon (@StePozzebon) May 22, 2017
A polícia venezuelana recorreu a gás lacrimogéneo e ergueu barricadas nas ruas de Caracas para evitar que a marcha chegasse ao Ministério da Saúde, como estava previsto.
As manifestações a favor e contra o presidente Nicolás Maduro intensificaram-se, na Venezuela, desde 1 de abril.
Pelo menos 48 pessoas morreram, já, nos confrontos com as autoridades.