Alegria e tristeza no nascimento de pandas gigantes
Comentários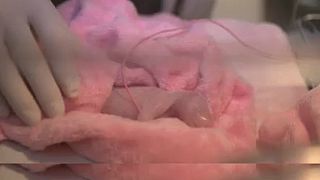 Entre a alegria e a tristeza no Jardim Zoológico francês de Beauval. Uma panda gigante deu à luz dois gémeos na sexta-feira para satisfação dos funcionários do Zoo. Mas a alegria esmoreceu já que uma das crias não sobreviveu mais de uma hora e um quarto, apesar de ter sido colocada numa incubadora. Sofria de problemas respiratórios.
Mesmo após o parto, a progenitora, chamada Huan Huan, em chinês felicidade, escolheu a cria mais vigorosa, como costuma acontecer.
Giant #panda Huan Huan in Beauval zoo gives birth to twin cubs, the first ever to be born in France, but one of them died shortly afterwards pic.twitter.com/yzRwkLsTwV

— China Xinhua News (@XHNews) August 5, 2017
O nascimento de novos pandas gigantes é sempre um motivo de satisfação. É uma das espécies mais vulneráveis devido às dificuldades de reprodução, ligadas a perda do habitat natural, à endogamia e ao período fértil das fêmeas de apenas 36 horas por ano.
Só 22 zoológicos fora da China têm ursos Panda. Os do Zoo de Beauval chegaram a França depois do pedido pessoal do ex-presidente Nicolas Sarkozy ao presidente chinês.
A atual primeira-dama Brigitte Macron deverá ser, tal como a homóloga chinesa, madrinha do novo panda que será entregue à china dentro de três anos.