Helen Mirren e Jane Fonda arrebatam na semana da Moda de Paris
Comentários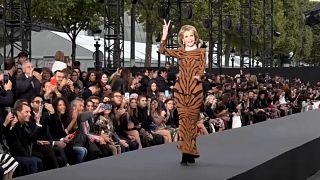 Moda e Paris continuam sinónimos e a passagem de modelos de uma conhecida marca de cosméticos francesa deixou uma mensagem no feminino, forte, diversa e muito elegante na passerelle dos Campos Elísios.
Basically, I'll be looking at this photo, every single Monday morning. Probably forever. #helenmirrenpic.twitter.com/Q4AJiWznt7

— W1Girl (@W1Girl) October 1, 2017
Cheryl Tweedy voltou a passar e a fazer virar cabeças depois da maternidade, mas foi Dame Commander Helen Mirren a rainha inglesa em solo francês. Com uma coolness extra chique num estilo retro depurado, a atriz mostrou que mais de setenta anos só pesam na afirmação plena de identidade.
O ativismo esteve com Winnie Harlow, a modelo com vitiligo e beleza à flor da pele.
And here's JANEFONDApic.twitter.com/Ci2fJrpe5g

— Michelle Lee (@heymichellelee) October 1, 2017
O êxtase do público chegou com o maxi vestido de padrão leopardo de Jane Fonda, a mostrar a boa forma de uma americana a quem nunca nada parou, muito menos a forma física, a menos de um ano das oito décadas.
Mulheres de carne e osso de uma beleza selvagem como o vestido de Fonda.