Compositor norte-americano Burt Bacharach morre aos 94 anos
Comentários
De Lusa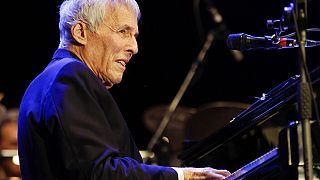 -
Direitos de autor

Luca Bruno/Copyright 2022 The AP. All rights reserved.
O músico e compositor norte-americano Burt Bacharach morreu na quarta-feira, em casa, em Los Angeles, nos Estados Unidos, aos 94 anos, de causas naturais, anunciou a sua relações públicas.
Nome maior da música popular a sair dos Estados Unidos ao longo da segunda metade do século XX, só teve pares em figuras como John Lennon e Paul McCartney, Carole King e poucos mais, como recorda o obituário da Associated Press, que lembra criações suas como os temas "Walk on By", "I Say a Little Prayer" ou "This Guy's in Love with You".
Vencedor de oito Grammys e de três Óscares, criou canções para vozes como Dionne Warwick, Aretha Franklin, Dusty Springfield, Tom Jones e outros, tendo os seus temas sido alvo de versões por nomes que foram de Elvis Presley aos White Stripes.