Râguebi: Irlanda e Inglaterra invencíveis a caminho do duelo
Comentários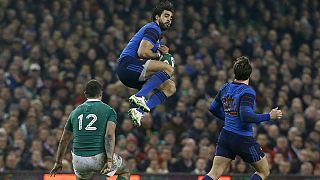 A duas semanas de enfrentar a vice-campeã Inglaterra, a campeã Irlanda recebeu e venceu, em Dublin, a França, por 18-11, na segunda jornada do Torneio das Seis Nações, em râguebi.
FT IRE 18-11 FRA: Ireland stand strong to hold off a late French surge and clinch victory. #rbs6nationspic.twitter.com/4zQyKLVClC

—

RBS

6 Nations (@rbs_6_nations) 14 fevereiro 2015
Os irlandeses contaram com a boa prestação de Jonathan Sexton, de regresso após 12 semanas ausente por lesão, para manter a invencibilidade no torneio, num jogo em que tiveram de se aplicar e suar para impor aos gauleses a primeira derrota na competição
A Inglaterra, por seu lado, recebeu a visita da Itália, a "vencedora" da colher de madeira do ano passado – distinção para o ultimo classificado do "Seis Nações". A equipa da rosa vermelha venceu a "squadra azurra" por claros 47-17.
Os vicecampeões viram ainda Nick Easter tornar-se, aos 36 anos, no mais velho inglês a assinar um ensaio.
FT ENG 47-17 ITA: Victorious England dominate the 2nd half to remain in title contention. #rbs6nationspic.twitter.com/vdxWzQGQNG

—

RBS

6 Nations (@rbs_6_nations) 14 fevereiro 2015
Esta segunda jornada fica completa este domingo com a visita do País de Gales à Escócia.
Jornadas ja realizadas:
1.ª Ronda:
País de Gales – Inglaterra, 16-21
Itália – Irlanda, 3-26
França – Escócia, 15-8
2.ª Ronda:
Inglaterra – Itália, 47-17
Irlanda – França, 18-11
Escócia – País de Gales (domingo)
Classificação:
1. Inglaterra 4pts/ 2j/ 68-35p
2. Irlanda 4pts/ 2j/ 44-14p
3. França 2pts/ 2j/ 26-26p
4. P. Gales 0pts/ 1j/ 16-21p
5. Excócia 0pts/ 1j/ 08-15p
6. Itália 0pts/ 2j/ 20-73p
Jornadas por disputar:
3.ª Ronda:
Escócia – Itália
França – País de Gales
Irlanda – Inglaterra
4.ª Ronda:
País de Gales – Irlanda
Inglaterra – Escócia
Itália – França
5.ª Ronda:
Itália — País de Gales
Escócia — Irlanda
França – Inglaterra