Inglaterra: pelo menos sete mortos em espectáculo de acrobacia aérea
Comentários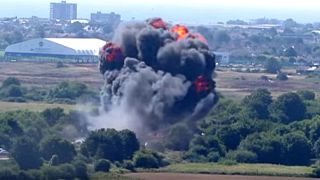 A queda de um avião este sábado na costa sul da Inglaterra provocou ferimentos em várias pessoas e pelo menos sete vítimas mortais, segundo as primeiras informações das autoridades britânicas.
SECAMB confirm 7 fatalities from the crash at the Shoreham air show today. Thoughts are with the families and loved ones.

— SECAmb (@SECAmbulance) 22 agosto 2015
A aeronave participava num espectáculo de acrobacia aérea em Shoreham, próximo de Brighton.

De acordo com a imprensa britânica, o piloto foi retirado dos destroços em chamas e transportado para o hospital.
O aparelho, um modelo de combate subsónico Hawker Hunter de 1950, despenhou-se contra várias viaturas.
There has been a major incident outside the airfield boundary. The emergency services are responding. Updates will follow when available

— Shoreham Airshow (@shorehamairshow) August 22, 2015
Este é o segundo incidente no Shoreham Airshow nos últimos anos. Em setembro de 2007, Brian Brown, um duplo de James Bond, morreu com 49 anos na queda de um Hurricane da Segunda Guerra Mundial.