Mundial de Râguebi: Escócia arranca (45-10) Japão das "nuvens"
Comentários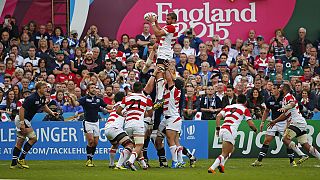 Depois da surpreendente vitória a abrir diante da África do Sul, o Japão despertou do sonho de se intrometer ao mais alto nível no râguebi ao segundo jogo no Mundial que está a decorrer em Inglaterra. Diante da Escócia, os nipónicos foram "atropelados", por 45-10, num segundo período em que apenas conseguiram três pontos e os britânicos somaram cinco ensaios.
FULLTIME: Scotlandteam</a> <a href="https://twitter.com/hashtag/SCO?src=hash">#SCO</a> run away from <a href="https://twitter.com/JapanRugby">JapanRugby#JPN to win 45-10 #RWC2015#SCOvJPNhttp://t.co/CcukWRVE5vpic.twitter.com/PJMXczvK4b

— Stuff.co.nz News (@NZStuff) 23 setembro 2015
Os escoceses dominaram por completo os "15" do sol nascente, mas chegaram ao intervalo com uma vantagem de apenas 12-7 e o marcador final em aberto. Na segunda parte, porém, a Escócia arrasaram por completo os nipónicos, somando ainda aos 4 da vitória ainda mais um ponto extra. O largo triunfo colocou a equipa de, assumindo a liderança do grupo B, com cinco pontos.
20 points for Greig Laidlaw = your MasterCardUK</a> man of the match for <a href="https://twitter.com/hashtag/SCOvJPN?src=hash">#SCOvJPN</a>. 4 penalties & 4 conversions <a href="https://twitter.com/hashtag/RWC2015?src=hash">#RWC2015</a> <a href="http://t.co/Ek3VfVqIgU">pic.twitter.com/Ek3VfVqIgU</a></p>&mdash; Rugby World Cup (rugbyworldcup) 23 setembro 2015
Nos restantes jogos do dia, a Austrália derrotou as Ilhas Fiji, por 28-13, somou os respetivos 4 pontos e ficou a um dos líderes do grupo A, a Inglaterra e o País de Gales, cada qual com 5 pontos, enquanto a França ultrapassou com facilidade a Roménia, por 38-11, e assumiu a liderança do Grupo D, com 9 pontos em 2 jogos.
FT | The #Wallabies have opened their rugbyworldcup</a> campaign with a 28-13 victory over <a href="https://twitter.com/fijirugby">fijirugby. #AUSvFJIpic.twitter.com/jsyTImQOyL

— Wallabies (@Wallabies) 23 setembro 2015