Nova Zelândia na final do mundial de râguebi
Comentários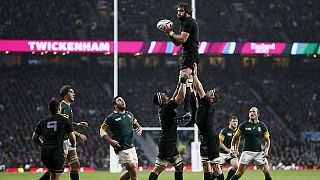 O Duelo de Titãs sorriu aos All Blacks que seguem para a final do mundial de râguebi.
The #AllBlacks are heading to the final! Tense final 10 minutes. #RSAvNZL#TeamAllBlacks#RWC2015pic.twitter.com/SOTRRnOSU5

— All Blacks (@AllBlacks) October 24, 2015
No encontro entre os dois bicampeões do mundo, os sul-africanos abriram o marcador com uma penalidade mas logo a seguir a Nova Zelândia conseguiu o primeiro ensaio do embate. Estava dada a tónica da partida com os Springbocks a faturarem com pontapés entre os postes. A primeira metade terminou com a África do Sul na frente do marcador, com 12 a 7. No regresso dos balneários os homens de negro lograram dar a volta ao marcador, primeiro com um drop e depois com um novo ensaio. No final, o resultado de 20 a 18 espelhou o ardor da batalha que se desenrolou este sábado em Twickenham.
This picture, credit of Getty Images, tells a great story of the battle of Twickenham. #sportsmanship#RWC2015pic.twitter.com/pBcDJhiwEY

— South African Rugby (@Springboks) October 24, 2015