Direção do Credit Suisse sob fogo dos acionistas
Comentários
De
Marco Lemos
com
REUTERS, BLOOMBERG, WALL STREET JOURNAL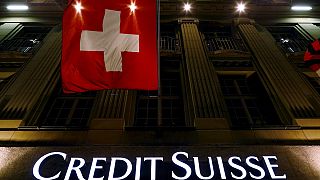 O "presidente executivo do Credit Suisse pediu "calma" aos acionistas":http://www.wsj.com/articles/credit-suisse-ceo-tidjane-thiam-calls-for-investor-calm-1461939207 perante o turbilhão que está a ser a reestruturação do banco.
As ações da instituição já desvalorizaram mais de 40% desde julho do ano passado, quando Tidjane Thiam assumiu as rédeas do Credit Suisse. Os acionistas estão furiosos
#CreditSuisse stumble exposes 'value trap,' Morgan Stanley says https://t.co/42DhuzFreY via jennysurane</a> <a href="https://t.co/Nq45t3nWoh">pic.twitter.com/Nq45t3nWoh</a></p>&mdash; Bloomberg Zurich (switbloom) April 29, 2016
Só na sexta-feira, durante as cinco horas que durou a reunião com os acionistas, os títulos desvalorizaram 4%.
My latest – Shareholder storm at #CreditSuisse but pay packages approved for top execs – https://t.co/XnskhLScb6CNBCi</a></p>&mdash; Spriha Srivastava (spriha) April 29, 2016
O Credit Suisse "faz-me lembrar um edifício de escritórios que parece estar a colapsar", alertou o primeiro acionista que falou no encontro.
First #creditsuisse shareholder to speak at the AGM: the bank "Reminds me of an office building that seems to be collapsing."

— John Letzing (@letzing) April 29, 2016
Thiam procura operar uma mudança na estratégia para passar de um puro banco de investimento para uma instituição dedicada à gestão de riqueza. Mas um prejuízo antes de impostos no ano passado de 2,5 mil milhões de francos suíços ao mesmo tempo que ofereceu bónus avultados aos administradores provocou a ira dos investidores.