Trump denuncia "manifestantes profissionais incitados pelos media"
Comentários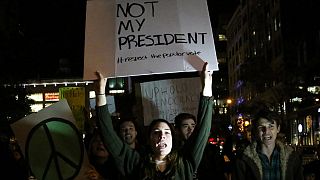 O presidente eleito norte-americano reagiu à segunda noite de protestos pós-eleitorais nos EUA com criticas ao que considerou serem "manifestantes profissionais, incitados pelos media".
Numa mensagem publicada nas redes sociais, Donald Trump, regressou ao tom acusatório da campanha, quando milhares de manifestantes desfilavam nas ruas das principais cidades do país.
Just had a very open and successful presidential election. Now professional protesters, incited by the media, are protesting. Very unfair!

— Donald J. Trump (@realDonaldTrump) November 11, 2016
Os protestos voltaram a decorrer frente à residência do milionário, na torre Trump de Nova Iorque.
As marchas, convocadas por associações de defesa dos direitos dos homossexuais ou dos emigrantes, repetiram-se também em mais de uma dezena de cidades como Washington, Los Angeles, São Francisco e Denver, sem registo de incidentes.
Os protestos revelam a fratura criada pela eleição do milionário quando Clinton foi a mais votada pelas mulheres, jovens de menos de 30 anos, negros e latinos.