BCE realiza sessão de esclarecimento no Twitter
Comentários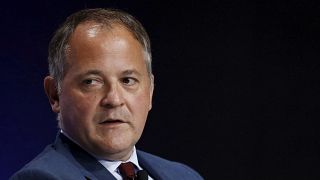 Não é fácil explicar economia em 140 carateres. Mas, foi o que o Banco Central Europeu tentou fazer, esta segunda-feira.
Numa iniciativa inédita, o BCE respondeu no Twitter a questões enviadas através do 'hashtag' #AskECB.
Durante cerca de meia hora, um dos membros do conselho executivo do BCE, Benoit Coeure, respondeu a várias questões colocadas pelos internautas.
Política monetária, o prolongamento do programa de compra de ativos anunciado por Mario Draghi, previsões para a inflação e definições técnicas dominaram os pedidos de esclarecimento feitos pelos utilizadores da internet.
#askECB would there be a contigent credit facility for Italian Banks in case their ongoing crisis definitely burst?

— Alberto Hdez Lopo (@Alberto_HLopo) December 12, 2016
Hi ecb</a>, how can a single monetary policy work for all the (VERY) different eurozone Countries at the same time? \\ <a href="https://twitter.com/hashtag/askECB?src=hash">#askECB</a></p>&mdash; Grim (gr_grim) December 12, 2016
Hi ecb</a>, is there a relation with the growing rate of insolvency in peripheral banks and the regime of low interest rates? <a href="https://twitter.com/hashtag/askECB?src=hash">#askECB</a></p>&mdash; Matteo Iagatti (maiaga81) December 12, 2016
#AskECB Do you think the negative side-effects of the ECB's bond purchases will come to the fore after last decisions?

— Abdulselam Durdak (@Adurdak) December 12, 2016
Também houve espaço para algumas intervenções provocadoras:
Votre monnaie est leur hamac.#askECBpic.twitter.com/WaGOraQEPk

— Collectif Antigone (@Collec_Antigone) December 12, 2016
#AskEcb why don't you publish an "how to leave de Euro" wiki to avoid populists to create illusions on this topic?

— Marco (@AlgerinoPerCaso) December 12, 2016
Hello! This is Wolfgang Schäuble. Close your QE account. #AskECBhttps://t.co/vPovUuekKR

— konel_vlachar (@konel_valar) December 12, 2016
Com esta iniciativa, o BCE seguiu as pisadas do Banco de Inglaterra, que realizou sessões de esclarecimento através do Twitter em 2013 e 2015.