Austrália: Descobertas 150 pegadas de 21 espécies de dinossauros
Comentários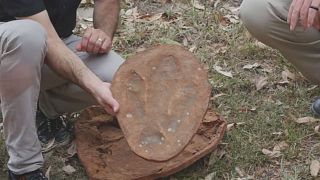 Os aborigenes já o conheciam, mas só há muito pouco tempo revelaram o tesouro: foram encontradas 150 pegadas de 21 espécies de dinossauros no noroeste da Austrália.
Os cientistas acreditam que as pegadas têm entre 90 e 115 milhões de anos. Até agora nunca tinha sido encontrado um conjunto tão variado de espécies. "É uma fauna de dinossauros única, que inclui estegossauro e alguns dos maiores dinossauros já registados, há pegadas com 1,7 metros de largura" afirmou o biólogo e geólogo Steve Salisbury
The Walmadany area is home to the world's largest dinosaur tracks. Law Boss Richard Hunter and a 1.7m sauropod track https://t.co/B3NAlwBreDpic.twitter.com/X2Ii5GiC7u

— Steve Salisbury (@implexidens) 27 mars 2017
A descoberta foi feita numa zona rochosa que tem entre 127 e 140 milhões de anos, em Walmadany, na península de Dampier. O povo aborígene Gollarabooloo tinha conhecimento deste tesouro mas só agora contactou os cientistas para investigarem a zona, depois de ter sido anunciado que na zona ia ser construída uma instalação de processamento de gás natural.
"Fomos contactados pelos Gollarabooloo que sabiam da existência destas pegadas mas precisavam da certificação científica", explicou Salisbury.
Here's me talking about the results of our study on the dinosaur tracks of Walmadany, on WA's #DinosaurCoast. #UQhttps://t.co/0SCEnfUi0gpic.twitter.com/kCCEBDMDI6

— Steve Salisbury (@implexidens) 27 mars 2017
De acordo com os cientistas da Universidade de Queensland, alguns dos vestígios encontrados são semelhantes aos que existem em Portugal, na Lourinhã.