Rodrigo Duterte autoriza polícia a "matar os idiotas"
Comentários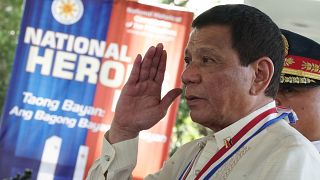 O presidente das Filipinas, Rodrigo Duterte, autorizou as autoridades a "matarem os idiotas" que resistam de forma violenta às detenções.
O chefe de Estado é conhecido pelas medidas polémicas contra o combate ao tráfico de estupefacientes, no país.
"Não devem apenas gritar-lhe para que se renda pois, caso não o faça e resista, e se for violento, colocando em perigo as vidas dos meus polícias, e do exército, vocês são livres de matar o idiota", afirma o presidente.
Philippines' Duterte says police can kill 'idiots' who resist arrest https://t.co/EtNJgzUoTPpic.twitter.com/90YEsXPRud

— Reuters Top News (@Reuters) August 28, 2017
As palavras de Duterte surgem dias depois de um milhar de pessoas ter assistido às exéquias de um adolescente assassinado pelas autoridades durante a guerra mortal contra as drogas.
A 17-year-old's death at the hands of the Philippine police has galvanized opposition to the brutal war on drugs https://t.co/kZFwY49WL9

— The New York Times (@nytimes) August 28, 2017
"O que está a acontecer no nosso país não é aceitável. É insustentável. A matança tem de parar e todo o país deve insurgir-se contra a tirania do atual regime", afirma o argumentista filipino Boni Ilagan.
Desde que Rodrigo Duterte assumiu a presidência, em junho de 2016, as autoridades dizimaram milhares de pequenos traficantes ou consumidores de drogas.
A política do presidente tem encontrado resistência na sociedade filipina e tem sido duramente criticada pela comunidade internacional.