Morreu Keith Flint, vocalista dos The Prodigy
Comentários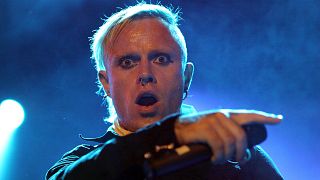 Direitos de autor

Keith Flint, cantante della band inglese The Prodigy
Morreu Keith Flint, vocalista dos The Prodigy. O icónico membro da banda inglesa de música eletrónica tinha 49 anos.
Flint foi encontrado sem vida, em casa, esta segunda-feira. De acordo com o jornal The Guardian, a polícia de Essex foi chamada à casa do músico às 8h40. "Infelizmente, um homem de 49 anos foi declarado morto no local", disse um porta-voz da polícia, sem identificar a vítima. "A morte não está a ser tratada como suspeita".
Liam Howlett, fundador do grupo, em 1990, confirmou no Instagram da banda que Flint se suicidou. Para trás, deixa sucessos como "Firestarter" e "Breathe".
The Prodigy em Portugal
Os The Prodigy fizeram a estreia em Portugal no festival Super Bock Super Rock, em 1996. Regressaram pela última vez ao país em maio de 2018, para apresentar o sétimo e último álbum de originais, "No Tourists".