Sinead O'Connor e John Legend animam festival de jazz de Montreux
Comentários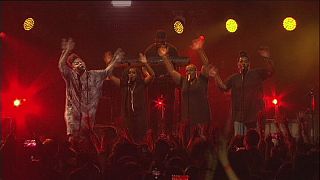 Sinead O'Connor passou pelo festival de jazz de Montreux, na Suíça, para mostrar o seu lado mais rock.
Além dos grandes clássicos, a cantora irlandesa cantou os temas do seu último álbum "I'm Not Bossy", lançado em 2014.
John Legend emocionou o público com o tema "All of Me" do quarto álbum de estúdio, "Love in the Future" lançado em 2013.
Depois da emoção, o duo francês Lilly Wood & the Prick animou o público com ritmos de dança. O single "Prayer in C" promete continuar a animar as noites de verão em 2015.
Outro dos destaques do festival, Emeli Sandé mistura várias influências, jazz, soul e R&B. A artista escocesa tornou-se conhecida em 2011 com os singles "Heaven" e Read All About It".
Emeli Sandé interrompeu os estudos de medicina para se dedicar à música. Em 2013 venceu dois prémios da música britânica graças ao primeiro LP, "Our Version of Events".