Britânicos a combater ao lado dos curdos negam ser mercenários
Comentários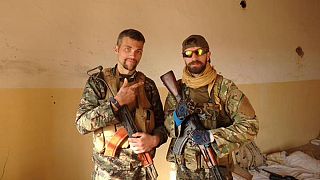 Um jornal britânico revelou que dois antigos soldados britânicos combatem o Estado Islâmico ao lado dos curdos.
IMAGES: Americans, Jordan Matson, Jamie Read & James Hughes fighting with the #YPG in #Kobane, #Syria. pic.twitter.com/JiQRQxMIH6

— Military Studies (@ArmedResearch) 20 Novembre 2014
Em declarações à BBC, um deles assegurou que não eram mercenários porque não são pagos para defender o povo curdo contra o Estado Islâmico.
Os britânicos Jamie Read e James Hughes juntaram-se aos combatentes curdos que lutam na Síria contra os jihadistas do Estado Islâmico e fazem parte dos 15 voluntários ocidentais que integram a milícia YPG.