Kerry e Zarif debatem hoje nuclear iraniano
Comentários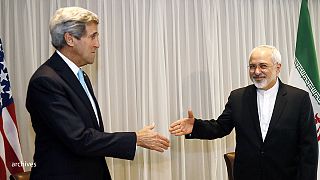 O secretário de Estado norte-americano, John Kerry, chegou a Lausanne, na Suíça, para um encontro com o chefe da diplomacia iraniana, Mohammad Javad Zarif, centrado no nuclear.
A reunião estava inicialmente prevista para o domingo, mas as intensas discussões entre as equipas de negociadores norte-americanos e iranianos acabaram por obrigar ao adiamento.
Wheels down in #Switzerland for meetings with FM JZarif</a> as part of ongoing P5+1 nuclear negotiations. <a href="https://twitter.com/hashtag/IranTalks?src=hash">#IranTalks</a> <a href="http://t.co/9IlOTWrUhX">pic.twitter.com/9IlOTWrUhX</a></p>&mdash; John Kerry (JohnKerry) March 15, 2015
Após 18 meses de negociações, Teerão e as grandes potências do grupo 5+1 – que reúne os Estados Unidos, a China, a Rússia, o Reino Unido, a França e a Alemanha – estabeleceram a data de 31 de março para, sob a égide da União Europeia, concluir um acordo que garanta o caráter civil do programa nuclear iraniano, em troca do levantamento de sanções.