Martin Demichelis acusado de violação do código de apostas desportivas
Comentários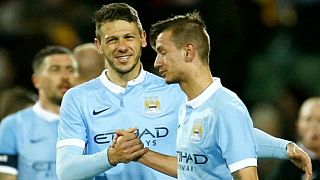 Martin Demichelis foi acusado de conduta imprópria e violação do código de apostas desportivas pela Federação Inglesa de Futebol.
Man City star Martin #Demichelis charged with betting offences https://t.co/4P8mvj4QrDpic.twitter.com/B6mo2VjS5a

— The Week UK (@TheWeekUK) 30 de março de 2016
Segundo este órgão o jogador do Manchester City "cometeu 12 violações do código de conduta (…) no que diz respeito à prática de apostas desportivas nos jogos de futebol, entre 22 e 28 de janeiro de 2016". As regras da Federação Inglesa de Futebol proíbem os jogadores de fazer apostas, seja de que forma for, em jogos ou competições em que participem.
O defesa-central argentino, de 35 anos, tem até dia 5 de abril para apresentar a sua defesa.