Rui Gonçalves soma os primeiros pontos no Mundial de Motocross
Comentários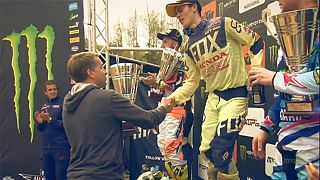 Tim Gajser e Jeffrey Herlings venceram este domingo, na Letónia, a sexta etapa do Campeonato do Mundo de Motocross.
Motociclismo – MXGP: Rui Gonçalves conquista primeiros pontos no Mundial https://t.co/7Mevu8suDc

— Diário Record (@Record_Portugal) May 1, 2016
Em Kegums, cerca de 50 km a montante de Riga, o esloveno Tim Gajser, aos comandos de uma Honda, venceu o MXGP, a categoria rainha. O português Rui Gonçalves, a pilotar uma Husqvarna, foi 20.º, somou os primeiros três pontos no mundial e ascendeu ao 31.º posto da geral, comandada pelo francês Romain Febvre, agora com apenas 1 ponto de vantagem sobre Gajser.
BIG crash for Tim Gajser in Latvia but bounces back and secures the MXGP red platehttps://t.co/8cXDXqYXoa

— Live Motocross (@LiveMXMagazine) May 2, 2016
Na categoria MX2, Jeffrey Herlings, em KTM, somou a sexta vitória em outras tantas provas e reforçou o comando do mundial. O holandês ficou com 70 pontos de vantagem sobre o suíço Jeremy Seewer, em Suzuki.
O mundial de motocross ruma agora à Alemanha para a sétima prova, agendada para domingo, 8 de maio, em Teutschenthal, no Centro-Leste do país.