BCE compra de dívida de empresas da zona euro
Comentários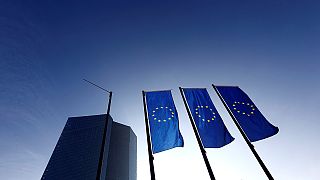 O Banco Central Europeu (BCE) iniciou esta quarta-feira a compra de dívida de empresas, com notação na categoria investimento.
A medida, anunciada em março, completa o programa de compra de ativos, em vigor há mais de um ano, e que visa relançar a economia e a taxa de inflação. O BCE tem um envelope mensal de 80 mil milhões de euros.
Com a compra de dívida empresarial, o BCE quer fazer baixar os custos de financiamento para levar as empresas a contratar e investir. Os analistas estimam que o valor de compra de dívida empresarial poderá rondar os 3 a 5 mil milhões de euros por mês.
Lutz: Utilities account for 25% of all investment-grade bonds deemed eligible by the ECB for purchasing pic.twitter.com/Hg2S2CrIrz

— ValueWalk (@valuewalk) 8 de junho de 2016
O mercado da dívida empresarial ronda os 500 a 600 mil milhões de euros e é dominado por empresas francesas e holandesas, que já beneficiam de condições favoráveis em termos de crédito.
Segundo agências de notícias, no primeiro dia foi adquirida dívida da seguradora Generali, da operadora Telefónica e da companhia energética Engie.
EDP, REN e Brisa são as empresas cuja dívida pode ser comprada pelo BCEhttps://t.co/Zkaajwwgar

— Maria Teixeira Alves (@MariaTAlves) 2 de junho de 2016